Bob's CD Duplication Service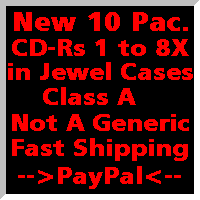 NEW 10 Pac. CD-Rs In Jewel Cases
Each Jewel Case Individually Shrink Wrapped.

Works With CD-Rs or CD-RWs.

For Recording Music, Video or Data.

100 Year Life Span if Stored Properely.

Write Speed is 1X, 2X, 4X, 6X, or 8X

80 Minute 700 MB. Blue on Silver.

These Are CLASS A Not A Generic.

Fast Shipping (Not 5 to 7 Days Ground)...

Ready To Ship Now As Soon As Money is Comfermed.


Shopping Cost is $5.50 (USA ONLY)
Will Accept Money Orders, Certified Checks, CODs or PayPal